Diversity and inclusion experts, VERCIDA, have been nominated for the fiercely-contested Best Specialist Job Board prize in the 2018 National Online Recruitment Awards (NORA).
There are eight finalists in this year's specialist board category, all providing a tailored job search experience to candidates in all
disciplines. The nominations for awards are particularly welcomed by VERCIDA's team as they acknowledge and reward excellence in online recruitment practice. VERCIDA previously took the top spot as Best Newcomer in 2017.
VERCIDA's Chief Executive Officer, Morgan Lobb, said, "Diversity and inclusion is often talked about but not easily implemented. It requires real behavioural change at all levels of a business. Awards like this recognise the hard work we can do to improve jobseeker choice and we believe it's this innovation - and commitment from employers - that will change the way we all work, and more importantly, live."
A judging panel will now assess all finalists from a job seeker's perspective, and select the 2018 winners. These will be announced at their awards event in London on Wednesday 14 November.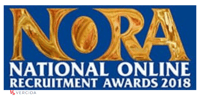 About the NORAs
The NORAs have built a reputation as the standard by which recruitment websites are measured, and provide important recognition in the UK recruitment sector. The awards cover job boards, recruitment agencies, employers, career advice websites, and trade and national publications. They are hosted by the National Online Recruitment Academy.